:::NEWS:::
MAY 22, 2006 - Help us come to your town this summer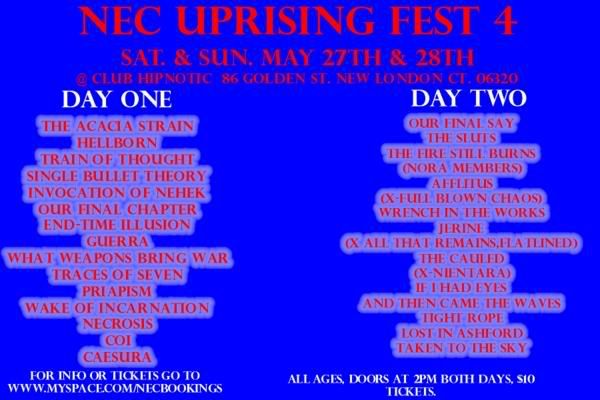 Hey Everyone. Summer time is upon us again and that means it's time to gear up and hit the road for a few dates. Be sure to check the shows page for the most up to date info on when we're playing your town and if your area isnt on there REQUEST US to play. We're always done for shows trades or if you or anyone you know sets up shows please get in touch.


Writing for the full length is going great is is very near completion. Believe me fellas, these new songs absolutely rip and we cant wait to record this rock. Thanks to all the myspace people who gave me feedback on this website. It's much appreciated. I was very impressed by the number of people who stated they still check band sites regularly besides the myspace crap given that's where everyone seems to be these days. Again, thanks for the kick in the ass to keep this site more up to date. See ya all soon!!! ~Mike n' Guerra~
February 20, 2006 - New year, new lineup, new shows, new merch!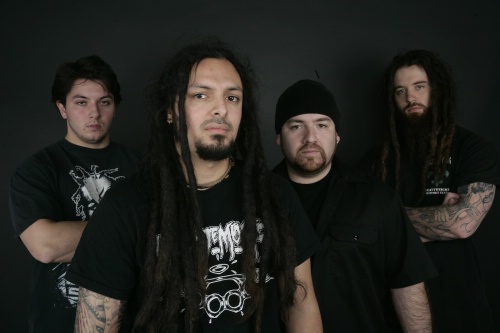 And another long gap between updates. Where the hell does time fly?? Shit man, crazy shit! Anyways.....a new year is upon and we're gearing up to make it our best yet. Always, check the SHOWS page for all the latest updates on when to come check us out, hang with us, rock with us and have a good time. Or since the whole world including my nutz is on this funny thing called my something or another you can check us out there too.

The long awaited full length will be falling into place this year. We are very siked on showing you guys what we've been up to lately here in the cartel, especially since Chris is now on board laying down some guitar mastery. Some new song titles include, "12 Knives, "House of The Unholy", "Torch The Leech", and "The Winds of Tomorrow's Empty Promise." This as well as a few others we have concieving in the jam room currently. Consider this a warning.

One more really cool thing, we finally have some new merch that will debut at the Feb 25th show. Really bad ass color shirts, pins, patches and for the lovely ladies....."Girlie" Guerra shirts. Gotta show some love to all our lovely lady friends out there!!

Hope Everyone is well........Peace Out!! ---Mike n' Guerra
November 7, 2005 - The Circle Is Complete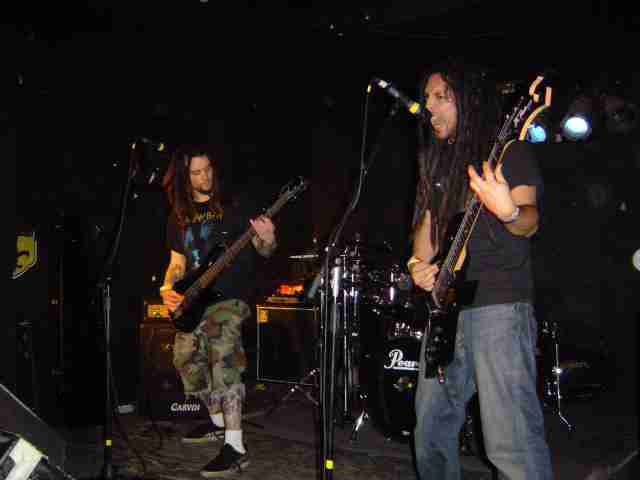 God damn it's been a while since the last update. My deepest apoligizes for the neglect here. I need a new adobe photoshop program bad. If anyone is willing to sell one please contact me through the contact section. On a MUCH brighter note, We are very excited to inform you all that after months of searching we have finally decided to announce the addition of a 2ND GUITARIST to the lineup. This (un)lucky individual is guitar virtuoso Chris Vaca from Windsor, CT.

Chris brings 11 years of solo mastery in metal,jazz,and rock styles to the table and over the past few jam sessions he has brought the sound to a new level. We are very excited to have him on board as he shares our vision and dedication to music and he's an overall awesome guy. His First show with us will be Dec 17th at Club Hipnotic which is the old El N Gee. Come out and support you will not be dissapointed. You have been warned........

JUNE 27, 2005 - Summer Time Mayhem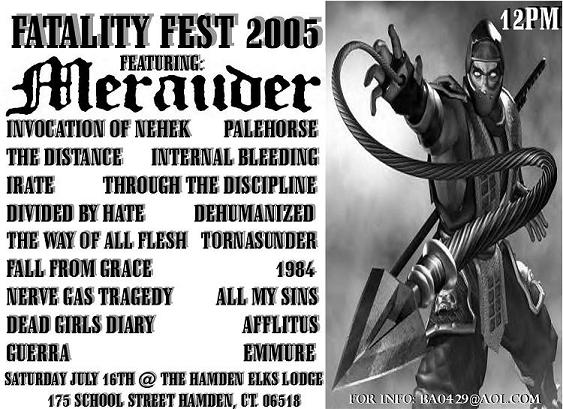 Everyone come out this Thursday down to Toad's Place to see us rock out with our friends in Priapism, along with great other bands such as Kavorkian, and On Paths Of Torment. We'll be playing a new song, "12 Knives" which I'm sure you'll all enjoy. Check out the SHOWS section for all our summer appearances around CT and elsewhere. Speaking of which we are really looking for out of state shows so get in contact if ya can help out. I promise we'll make it your while with good times and good brews.


After that we will be playing 2 festivals in one day on July 16th. Early Afternoon we have an appearance at the Fatality fest hence the flyer to your left her. Great show to bring in the metal and hardcore kids from all around and fuck shit up! That night we will also be rocking out at the "Dis-Fest" in Kent, CT alongside a bunch of great hardcore/punk/thrash bands. It's also a vegetarinan/vegan bbq and there's plent of campground to bring a tent, party, and crash. We're really looking forward to both fests and hope to see many of you there. Cheers...-mike n' guerra

May 30, 2005 - Thanx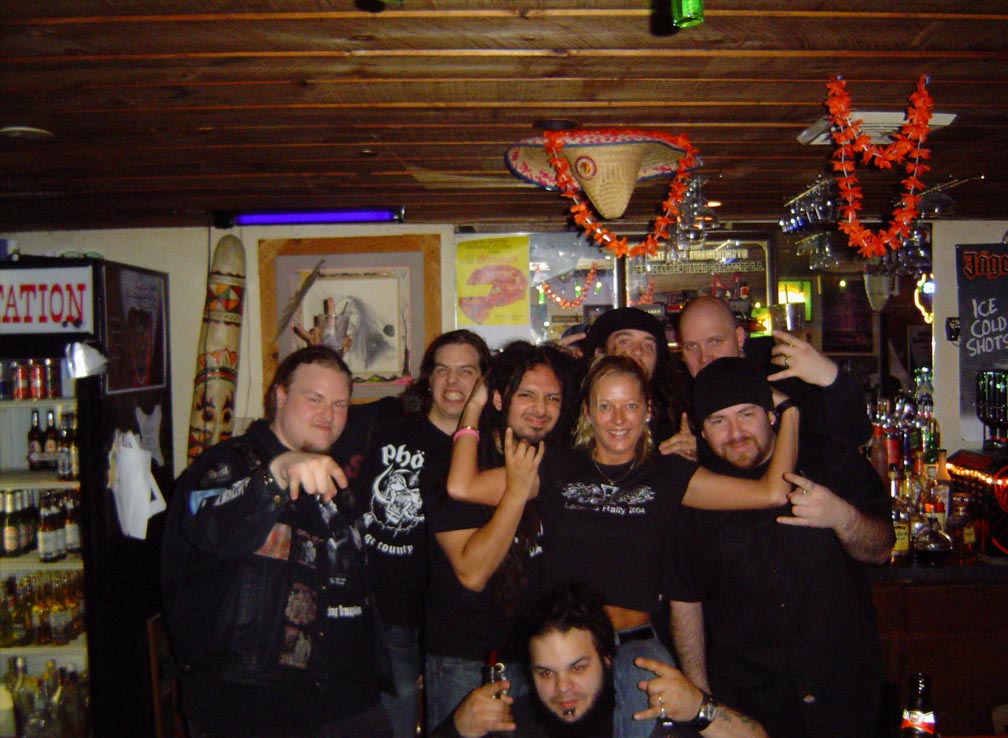 First of all, I want to say a huge thanks to everyone who came out on the May 25th show in Wallingford. MAD PROPS goes out to Tom Father Panic for doing an awesome job with the remodeling of the place and it's not even done yet! Thanks to everyone In Misery Index, Rotten Sound, and Magrudergrind for a bad ass show and waking up my whole neighborhood at the after party. My neighbors love you all. hahaha!


Another thank you goes out to Dan Berry and the Hartford Advocate for the great show review. You can read the review in the May 18th Edition of the Hartford Advocate.I promise the "finished" cd of the demo will be out shortly. Many of you have noticed we've been handing out advance copies at shows, trust me, the finshed copy sounds even better. Please anyone reading this who books shows in/out of the CT area get in touch cause summertime is touring season and we're always looking to play anywhere, everywhere. I'll write more soon....cheers everyone. mike n' guerra




Everything on this site © 2003-2006 GUERRA • Ask before using • All rights reserved.